ISO Insert Series for Steel Turning
Pushing the boundaries of steel machining.
ISO Insert Series for Steel Turning MC6000 Series
MC6015 for high speed cutting
Delivers outstanding heat and wear the resistance during high speed cutting.
Machining time can be shortened and number of work pieces per cutting edge can be increased in stable machining.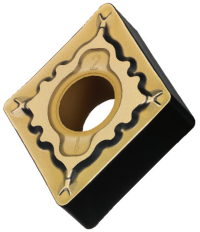 MC6025 the standard grade for steels
MC6025 is a standard grade for steels, and utilizes an optimum CVD coating which is suitable for crater and flank wear, thereby achieving general versatility for increased stability.
MC6035 for interrupted cutting, medium to low speed cutting
By dispersing an impact stress during interrupted machining, MC6035 controls crack development and achieves a good balance between fracture and welding resistance during low speed cutting.
General purpose steels MC6025
Improved surface finishes Welding resistance
Prevents abnormal fracture and weld chipping
The CVD coating layer prevents crater wear
Flat Al2O3 layer with excellent heat resistance reduces crater wear development.
CVD coating layer reduces flank wear
High wear resistance can be achieved due to the thickened Nano-texture TiCN layer.
Special carbide substrate with improved fracture resistance
Comparison for coating surface roughness
With an extremely smooth surface, the Black Super Even Coating provides improved surface roughness which results in excellent resistance against adhesion, abnormal damage and weld chipping.
Substrate with improved tough layer
The new technology used in MC6025 ensures a tough edge layer that vastly reduces crack development and fracturing.
For high speed cutting MC6015
Delivers outstanding wear resistance even at high temperatures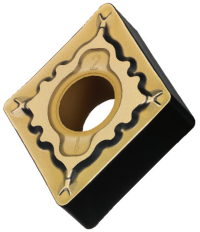 Better wear resistance can be achieved even at high temperature due to the thickened Al2O3 layer.
Nano-Texture Coating Technology
The optimized crystal growth, Nano-Texture coating technology provides outstanding wear and chipping.
TOUGH-Grip
The interface between the layers is controlled at the nano level, allowing the TOUGH Grip layer extremely high levels of adhesion to prevent delamination.
For interrupted cutting, medium to low surface speeds MC6035
Prevents severe damage for increased stability
The smooth coating surface provides excellent welding resistance. With the thickened TiCN, MC6035 also achieves superior wear resistance for increased stability.
Reducing the effect of severe fracturing
By reducing the tensile stress in the coating layer during interrupted cutting, crack development caused by impact stress is prevented.
Conventional products tend to result in fracturing because impact stress is transmitted deep into the coating layer during interrupted cutting.
MC6035 has succeeded in alleviating tensile stress in the coating layer therefore, cracks that can develop by impact stress can be prevented when interrupted cutting.
Cutting Performance
Performance evaluation during interrupted machining of SCM440
Provides outstanding fracture resistance and prevents crack development
Continuous cutting of bearing steel
Interrupted Machining of AISI 1050
It is possible to machine up to 100 pieces without fracturing.
EXAMPLES OF USAGE
The above application examples are customer's applications, so it can be different from the recommended conditions.