CVD Coated Grades for Cast Iron Turning
The ideal grades for a wide range of applications from high speed through to interrupted turning.
A choice of different grades ideally suited to all types of cast iron machining.
The process of casting iron enables complex geometries to be formed in the component that is produced.
Different types of cast irons produce different chips when machined and can cause various types of damage to an insert. The complex shapes produced in castings also creates challenges when machining and can vary from continuous to interrupted cutting. In response to these challenges, Mitsubishi Materials has created a series of grades that are able to successfully machine all types of cast iron materials and component geometries.

Chip morphology of cast iron
Features
"Super" Nano Texture Technology
The standard Nano Texture Technology has been improved and developed to be an industry leading standard for crystal growth of Al2O3 coatings. This Super Nano Texture Technology increases tool life and wear resistance due to the fine, dense crystal growth process.
Tough and Sub Grip Layers for Ductile Cast Iron Grades
The extra strength of the adhesion between the coating layers (1.3 times stronger) suppresses peeling during machining of ductile cast iron.
---
From the Developers
Since gray cast iron tends to be machined at high speeds (500-1000 m/min), it is important to make the Al2O3 film coating as strong as possible in order to ensure wear resistance. The focus was on the formation of crystals and the improvement of the intermediate layer of the coating. The coating has also been adjusted to provide excellent intermittent performance despite using a harder carbide substrate compared to conventional products.
Ductile cast iron is machined at relative low speeds (100-300 m/min) and TiCN has a higher hardness. As for the intermittent cutting performance. it was difficult to identify the cause of the edge chipping, but the investigation results revealed that the peeling of the coating was the cause of chipping so a stronger adhesion layer was introduced.
The MC5100 series has been expanded to include grades that are optimal for each type of cast iron turning. These grades will become an indispensable tool for customers that machine cast iron materials.
---
For high speed cutting of gray cast iron MC5105
Harder and With Outstanding Wear Resistance
Comparison of wear resistance of FC300 at cutting speeds of 1000 m/min
First recommended grade for ductile cast iron MC5115
Excellent Durability and Resistance to Impacts
Comparison of wear resistance during continuous cutting of FCD700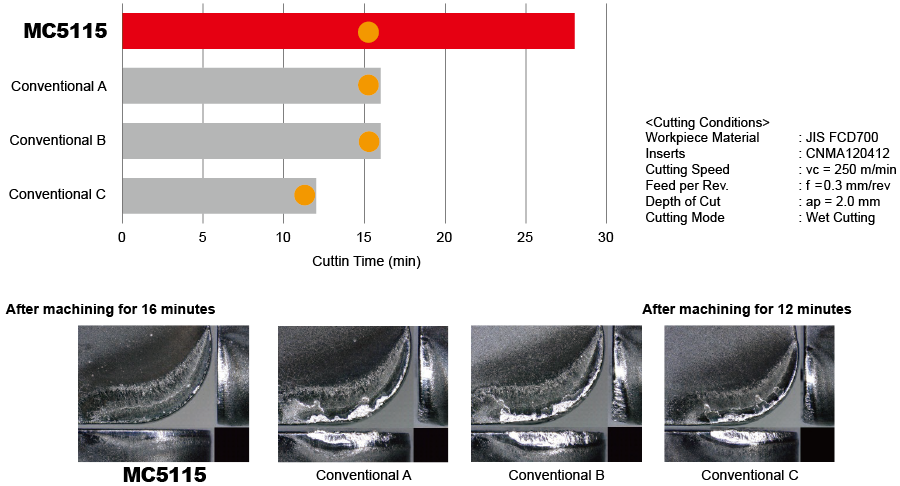 For heavy interrupted cutting of ductile cast iron MC5125
Excellent Stability and Fracture Resistance
Comparison of fracture resistance after 10 passes of interrupted cutting of FCD700
Way to Select MC5100 Series
Gray Cast Iron
MC5105 is the first recommendation for high speed machining of gray cast iron.
Select a suitable chip breaker to optimise tool life and reduce wear.
MC5115 is also capable of reliable machining at speeds of 100-300 m/min and for unstable cutting conditions.
Ductile Cast Iron
MC5115 is the first recommendation for ductile cast iron, including high strength ductile cast iron.
In order to prevent breakage and wear, select a suitable chip breaker.
MC5125 is also effective for heavy, interrupted and unstable cutting conditions.