Cutting Off & Grooving System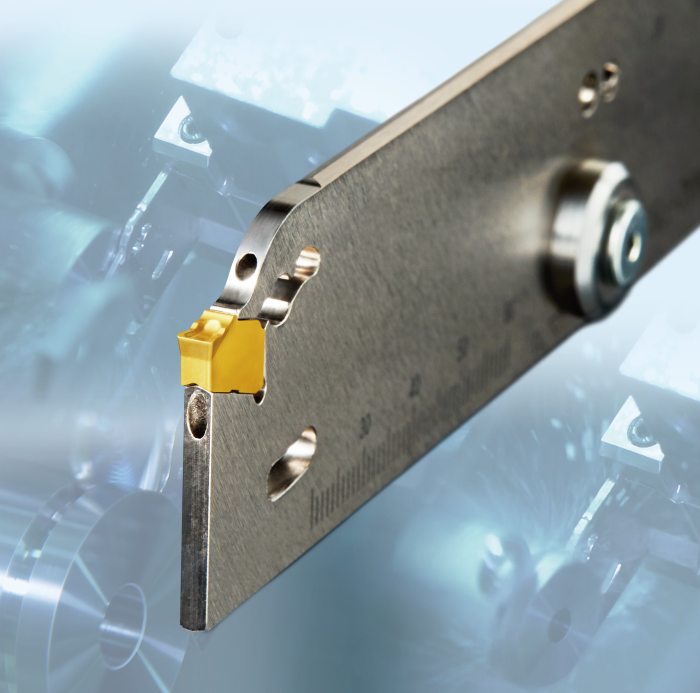 Long Lasting, Easy to Use Cutting Off & Grooving System
Clamp Mechanism
Simple insert clamping method offering high rigidity.
To prevent the insert from being pulled out during machining a reverse taper angle has been designed from the front of the insert, additionally the design also includes 3 large locating faces between the insert and the blade offering increased cutting edge reliability. The blade itself is made from a special alloy steel to suit this application. In respect to insert indexing a unique wrench is supplied to ensure ease when changing the insert.
Highly Reliable Insert Clamping
Easy Insert Indexing
The inserts can be indexed easily with a one action movement of the wrench.
Internal Coolant
Increased wear resistance due to the use of 2 through coolant ejection holes.
2 through coolant holes supply the coolant to both the rake and flank face, leading to effective cutting edge cooling and increased wear resistance.
Additionally this blade can also be used for both low pressure and high pressure coolant (7MPa).
Developer's Voice
How is it possible to reduce heat generation?
The 2 coolant holes used in the blade are capable of using high coolant pressures of up (7MPa), this is achieved by using as large as possible a through coolant hole diameter. The ejection holes are located close to the cutting edge so as to improve the cutting edge cooling effect and increasing wear resistance.
Suitable for Various Set Ups Improving Tool Handling
Effects of Through Coolant
Flexible set up possible with the use of 6 coolant ports.
There are 6 coolant ports designed into the tool block. This makes it easier for the end user to set up the tool block and blade to a configuration that suits their needs. If necessary it is also possible to use coolant hose. The ejection type coolant also improves cutting edge cooling and chip evacuation.
Chip Breaker
Breaker System Offering Excellent Chip Disposal Properties
Cutting Performance
Cutting Off of Alloy Steel (AISI 4140)
No abnormal cutting edge damage, possible to extend tool life.
Cutting Off of Stainless Steel (AISI 304)
No abnormal cutting edge damage, 4 time longer tool life was achieved.
Application Examples
The examples shown are actual applications and can differ from the recommended cutting conditions.