IMPACT MIRACLE REVOLUTION
For Machining of Hardened Steels
Revolutionary Machining of Hardened Steels
New coating provides outstanding tool life
IMPACT MIRACLE REVOLUTION Coating
The combination of the newly developed (Al, Cr, Si) N coating with improved lubricity and a high oxidisation temperature, together with the (Al, Ti, Si) N coating layer that displays excellent wear and adhesion to other coating layers, enables efficient and reliable machining of hardened steels.
Due to manufacturing adjustments, differences in the color of the coating for different diameters may occur. This has no adverse effect on performance.
Selection According to Work Material Hardness
Ball nose, Medium cut length, 4-Flute
VFR4MB
Higher efficiencies from increased feed rates when finish machining.
Shorter machining times while maintaining good surface finishes.
Correct Use of 2- and 4-Flute Geometries
2-flute geometries usually have a larger chip pocket and are better for rough machining with greater depths of cut that produce a larger volume of chips.
4-flute geometries can increase efficiency and reduce wear when used for finishing at small depths of cut. Additionally, using a 4-flute geometry is advantageous when machining harder materials at reduced depths of cut.
Cutting Performance
Comparison of Wear Resistance Surface - Machining HAP72 (69HRC)
IMPACT MIRACLE REVOLUTION end mills demonstrate excellent wear resistance even when machining high hardness workpiece materials.
Application Example
High efficiency and high precision finishing of press mould parts (60HRC)
Issues from Customer
---
1. Issue with machining efficiency due to the curvature of the workpiece material so a corner radius end mill cannot be used.
2. A 4-flute type was used to machine, but at the tip, the chip discharge was poor and resulted in a torn surface finish. The tool was changed to a 2-flute type.
3. The 2-flute type showed excessive wear after a long cut length and necessitated a tool change because the surface finish accuracy could not be maintained.
Comments from Customer Evaluation
---
· VFR4MB showed almost no wear and no change in surface roughness even though the tip was overworked on the contours of a press mould.
· By making it possible to machine with a single end mill, the costs were reduced and the time problems which required a tool change every 2 hours of machining or more were resolved. In addition, the feed rate could be increased by 1.5 which shortened the machining time.
Precision-Corner Radius End Mill, 4 Flute
VFRPSRB
A seamless edge geometry that is resistant to chipping, together with a wiper edge and strong back taper enables high precision machining.
High-Precision Corner Radius Accuracy
The corner radius of VFRPSRB is measured as follows, based on the absolute centre of the corner radius.
Completely Seamless Curved R Edge, DC≥1.5mm
A stable machined surface is achieved by a seamless blend between the radius and flank geometry.
Equipped with a Wiper Edge, DC≥1.5mm
A smooth surface finish is possible by installing a wiper edge.
Ball nose, 2 Flute, Long neck
VFR2XLB
Precise machining of vertical walls is possible due to a back taper and a strong, seamless ball nose cutting edge geometry.
Machining of a Bevel Gear Mould
Ideal for machining high-hardness precision, cold forging moulds of 65HRC or higher.
Revolutionary Hardened Steel
VFR2SSB / VFR2SB
2 Flute Ball Nose End Mill
New Cutting Edge Shape: Optimization of the cutting edge curve, helix angle, and rake angle have improved the edge strength at all areas of the ball blades.
Carbide Substrate: High-grade material types ideal for high-hardness materials.
Cutting Example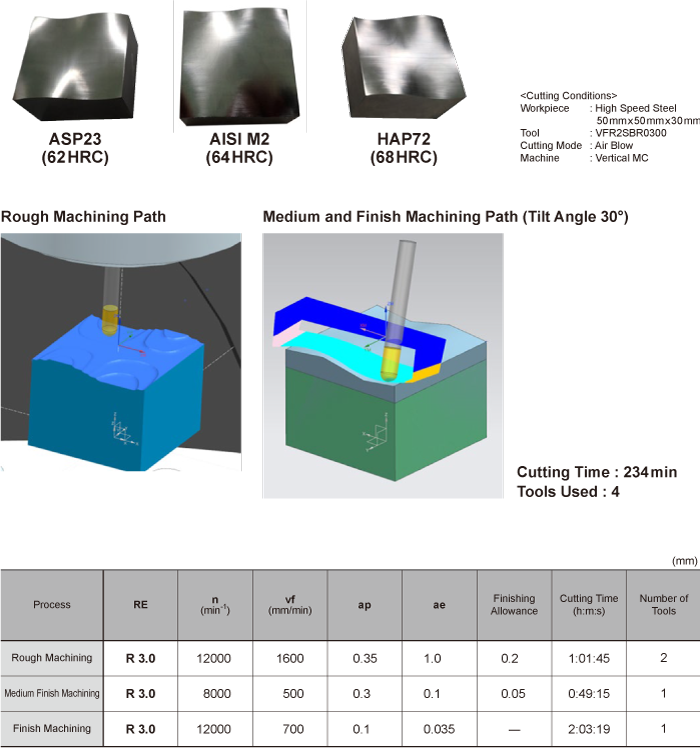 Cutting Performance
AISI H13 (52HRC)
VFR2SBF
2 Flute Ball Nose End Mill for Mirror Finish Cutting
Application Example
Workpiece : Pre-hardened Steel
AISI H13 (52 HRC) Comparison of Machined Surface