Double Sided Insert Type Shoulder Mill
High Rigidity and High Quality Performance
The "X-Type" insert shape achieves both high quality surface finish and economic efficiency.
The insert's main cutting edge can machine a 90° wall surface. Additionally, the large R-wiper edge is adopted for achieving a good surface finish, while, the optimised "X-type" with 6 corners contributes to lower tool costs.
The generous thickness of the insert provides high rigidity.
The new WWX200 insert is 1.5 times thicker than a conventional ASX400 insert, and the WWX400 is 2.2 times thicker. This extra thickness provides higher rigidity and fracture resistance.
Additionally, the extra rigidity eliminates the need for a seat shim.Therefore direct clamping of the insert to the body provides extra stability.
Excellent control and chip abrasion prevention.
CAE* analysis was used for the main cutting edge design. This resulted in changing from a straight to a curved cutting edge. Further, the rake angle shape of the optimised cutting edge greatly suppresses the scattering of chips to the bottom surface and outside periphery surface. This provides a good finish surface and markedly improved efficiency.
*CAE : Computer Aided Engineering
Comments from Developer
---
The WWX Series was developed under the concept of "Stable and Worry-free" using an optimised insert shape with a maximum thickness of 9mm in response to recent trends of unmanned operations and the demand for increased efficiency. The main attributes improved were rigidity and fracture resistance. Attention was also given to the cutting edge shape to achieve improved finished surface quality and good chip discharge. Be sure to experience the proprietary "X-type"insert developed by Mitsubishi Materials.
The optimised insert support and high clamp rigidity improve stability.
The conical shaped seating surface widely supports the insert seating surface while the radial geometry of the tool body behind the insert provides necessary clearance to suppress body damage from scratches and chip abrasion. Additionally,the strong clamping force of the screws prevents loosening to provide robust clamping.
Low cutting resistance suppresses chatter vibration even for thin workpiece materials.
Although a double-sided insert type with an axial rake angle of 9°(close to that of a single-sided insert type) is used,the WWX400 insert achieves lower cutting resistance than a single-sided insert (in-house comparison) and suppresses chatter vibration when machining thin workpiece materials.
Variety of cutter types, diameters & pitches.
Increasing the insert thickness, while achieving seat-less clamping made it possible to incorporate a large number of teeth while maintaining large chip pockets to provide a variety of cutter options.
A standard inventory is maintained consisting of 3 pitch types of both arbor and shank type cutters of same diameter.
Fine pitch types in particular allow a high table feed and greatly improve efficiency.
Comments from Developer
---
The result of pursuing "worry-free" is the cutter body. The highly rigid radial insert support achieves a stable insert seating face by using a conical shaped seat and M5 screws. This design allows for long and continued use and is the answer to the dissatisfied customers who have experienced "when damage to the insert has also made the cutter body unusable."
MP6100/MP7100/MP9100 Series
TOUGH-Σ Technology
A fusion of the separate coating technologies; PVD and multi-layering provides extra toughness.
CVD Coating MC5020
First recommendation for cast iron milling.
MC5020 has excellent wear resistance and also controls thermal cracking and chipping that are common when machining ductile cast iron.
Black Super-smooth Coating
Black super-smooth coating prevents abnormal damage such as weld chipping.
Chip Breaker System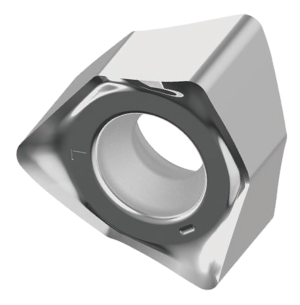 L chip breaker ideal for machining aluminium alloys and non-ferrous metals
Cost advantage of using 6 corners.
Precision grade provides high adhesion resistance and excellent machined surface quality.
Low cutting force and good chip control.
Cutting Performance
JIS SCM440 Finished Surface Comparison by Single Insert Cutting
WWX400 M class insert achieves the good surface finish as well as conventional G class product.
JIS SCM440 Fracture Resistance Comparison
High stability is achieved without fracturing even at a feed of fz=0.35mm/t.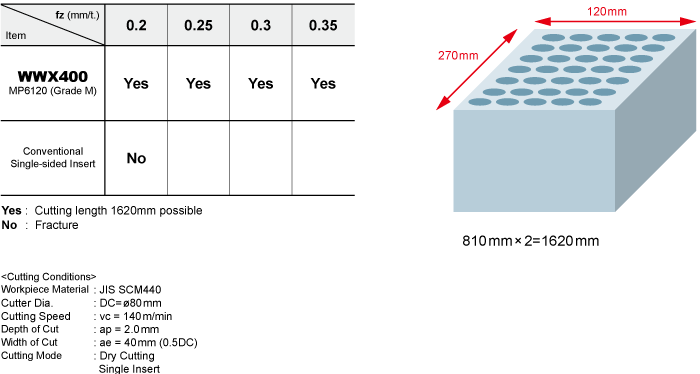 Comparison of Wall after Shoulder Milling Alloy Steel SCM440
Excels in chip control and achieves a excellent, scratch-free wall surfaces.