Face Milling Cutter for Cast Iron Machining with an Adjustable Run-Out System
A New Generation of High Efficiency Cast Iron Machining is Achieved with Low Cutting Resistance and an Adjustable Run-Out System
Low Cutting Resistance Insert and Adjustable Cutting Edge Run-Out Produce an Improved Surface Finish and Increase Productivity
Tough and Sharp Inserts for Low Cutting Resistance
MITSUBISHI MATERIAL's uniquely developed proprietary "Double Sided, Z Geometry" insert combines the features of conventional positive and negative rake inserts to achieve low resistance and sharpness. In addition, the chamfer geometry suppresses edge chipping that tends to occur during cast iron machining.
Easy-to-use Adjustable Run-out System
The M-Class insert gives a great cost performance ratio and allows for axial cutting edge adjustments of 0.01 mm or less. This helps to achieve surface finishes of Ra 1.6 μm or less over a wide range of feeds and speeds.
High precision machining is possible over a wide range of cutting conditions.
Achieves High Accuracy with a Simple Operation
Cutting edge run-out is easily altered by turning the the adjustment screw.
Chamfer Geometry Prevents Chipping of the Workpiece Material
The insert corner is chamfered to provide extra material thickness at the corner to prevent workpiece material cracking.
How to Use Wiper Insert for Best Results
The WSF406W can obtain a good surface finish when using a standard insert due to the adjustable run-out system, but by using a wiper insert an excellent surface finish can be achieved without having to set a high accuracy face run out.
When a wiper insert is mounted, aim to set the standard insert run out accuracy to within 0.04mm.
Just one wiper insert is enough to achieve excellent finished surfaces.
However, if the feed per revolution is greater than 5.0mm/rev, attach two or more wiper inserts so that they are evenly spaced in the cutter body and set the run out accuracy between multiple wiper inserts to within 0.003mm before use.
Comparison of Surface Finishes for Each Depth of Cut and Feed: JIS FC300
Achieves an Ra of 1.6μm or less for a wide range of feeds and depth of cut.
Comparison of Surface Finish for Wiper Insert : JIS FC250
Achieves excellent finished surface accuracy compared to conventional wiper inserts.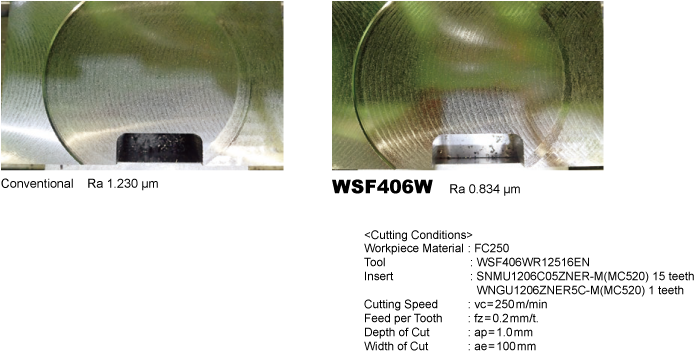 CVD Coated Carbide Grade for Cast Iron Milling
MC520

Ideal for machining grey cast iron due to the improved peeling resistance of the coating layer.
Improved Peeling Resistance
By optimising the coating layer and improving the adhesion with the cemented carbide base material, the plastic deformation of the cutting edge is suppressed. The coating layer has an excellent resistance to peeling, thereby providing longer tool life.
Comparison of Wear Resistance ; JIS FC300
The MC520 provides excellent wear resistance when machining gray cast iron.