For Ultra-high Speed, Super Efficient Machining of Aluminium Alloys
Up to 5000 m/min cutting speed.
10000cm3/min metal removal rate is possible.
(300km/h=33000min-1 x ø50mm)
Feature
How to Choose AXD4000A or AXD4000

AXD4000A is specifically engineered for continuous high-speed and ultra-high-speed machining of aluminium alloys, and can be better utilised on more powerful machines with more than an 80kw motor.
Cemented Carbide Grade for High-speed Processing of Extra Super Duralumin and Aluminium / Lithium alloy
MT2010
A high grade cemented carbide suitable for ultra-high speed machining at cutting speeds of 5000m/min, combined with excellent wear resistance and toughness.
Cutting Performance
Al-Li Alloy : Comparison of Wear Resistance
Selection of Insert
It is necessary to choose the best insert according to the cutting conditions. Please select an insert from the tables below.
1st recommendation for High Efficiency and High Load Machining on High-speed Spindles is the GM breaker with a strong cutting edge.
Selection of insert according to the feed per tooth and the required cutting depth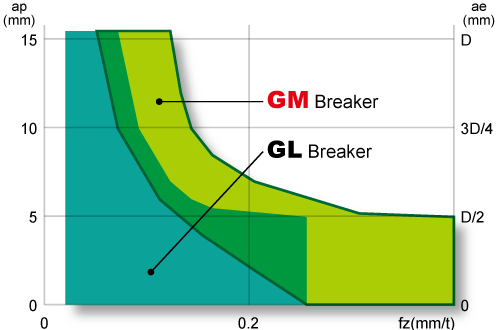 Selection of insert according to the width of cut and the required cutting depth
Selection of Insert According to Cutting Edge
Selection of insert according to wear resistance
Application Examples