General Purpose Multi Corner Insert Type Face Milling Cutter
Features of the Inserts
Unique 14 Corner Insert
Features of the Grades
Coated Ceramic "XC5010"
The strength of ceramics allows for stable
machining even when cutting at high-speeds.

High Temperature Hardness of Cemented Carbide and Ceramic
Surface-smoothing Al₂O₃ coating suppresses the transmission of cutting heat
By applying an Al₂O₃ coating, which suppresses the transmission of cutting heat to the ceramic substrate, and together with a surface smoothing treatment, abnormal wear and adhesion of the workpiece material are suppressed.
Achieves 5 times the cutting length of carbide when used at high-speeds
XC5010Chip Breaker System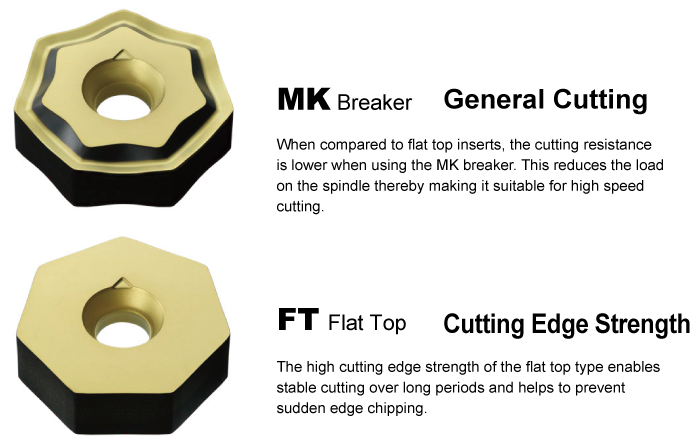 The height setting when using MK inserts is different than when using FT type inserts.
FCD600 Finish Surface Comparison
A high quality machined surface is maintained even when high speed cutting conditions are used.
Coated Carbide Grade "MV1020/MV1030"
Newly Developed Al-Rich Coating
Advanced Wear and Thermal Shock Resistant
By adopting the newly developed Al-Rich coating technology, the (Al,Ti)N with a high Al content ratio displays a very high hardness. This greatly improves oxidation and wear resistance.
The extreme heat resistance of this new series achieves amazing stability not only during dry cutting, but also when wet cutting where inserts are usually prone to thermal cracking.
MV1020 offers overwhelmingly superior performance in high-speed cutting, and MV1030 achieves stable performance during interrupted and stainless steel machining.
Cutting Performance
Comparison of wear resistance when machining ductile cast Iron FCD700
Insert Grades for a Wide Range of Materials
Accumulated Al-Ti-Cr-N Based PVD Coating
TOUGH-Σ Technology
A fusion of the separate coating technologies; PVD and multi-layering realizes extra toughness.
Accumulated Al-Ti-Cr-N Based PVD Coating
Coated Carbide Grade "MC5020"
MC5020 has excellent wear, chipping and thermal crack resistance. These features prevent the problems usually associated with machining cast iron over prolonged periods.
Cutting Performance
Features of the cutters
AHX440S / AHX640S
A Unique Face Mill for
Machining of Steel, Stainless Steel and Cast Iron
AHX475S
For High Feed Machining
High feed is possible with AHX440S by setting an RE = 3.2 mm insert to be used in a cutter body with a corner angle of 75° (KAPR15°).
The maximum depths of cut (APMX) will be limited to 1.6 mm.
AHX640W
For High Efficiency Machining of Cast Iron
Innovative Clamp System
New wedge geometry developed to increase the permissible number of teeth.
Unique wedge geometry uses a protruding section that fits inside the insert hole and acts as an Anti-Fly Insert (AFI) mechanism.
2 Variations for
Different Applications
Extra fine pitch and super extra fine pitch types allow high efficiency milling under various machining conditions.
Additionally, left hand types for use on special machines are also available as standard. Inserts can be used with both right and left hand type cutters.