Exchangeable Head End Mills
"Carbide(head)"+"Carbide(holder)"
Double face contact type
Features
The iMX series is a revolutionary end mill system that enables efficiency, high accuracy and rigidity by combining the advantages of both solid carbide and indexable end mills.
Security and rigidity close to that of a solid type end mill because the clamping faces are all carbide.
Excellent for reduced inventory over a variety of applications due to the exchangeable head.
Highly versatile grades
Tool life comparison when machining flat surfaces in Inconel 718
Comparison of tool rigidity
The double face contact of the carbide head and carbide holder gives an increase in rigidity of 30%.
Strength comparison when slot machining titanium alloy
The reliability of the screw fastening is significantly improved when compared to conventional that employ only steel fastenings. It is also able to cope with high cutting loads.
iMX New Type
Corner radius head with coolant hole, 6 flute, Irregular helix
iMX-C6HV-C High Efficiency Machining Enables Process Consolidation
Tool Integration Achieved
Multi functionality brings efficiency to the entire machining process.
Lollipop head with coolant hole, 4 flute
iMX-B4WH-S
SUS630 Comparison of Vertical Machining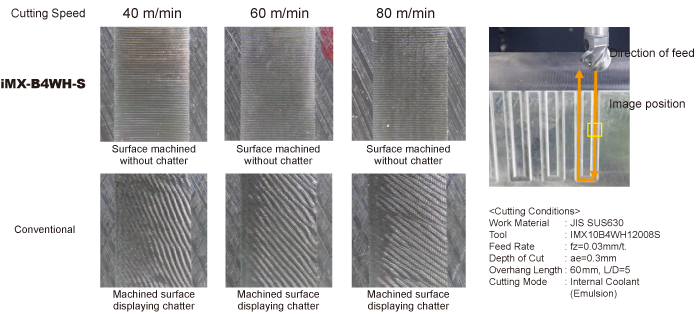 iMX-RC4F-C For Titanium Alloys and Stainless Steels
A corner radius roughing type with a centre through coolant hole. The roughing edge geometry
reduces cutting resistance and is effective for low rigidity and long tool overhang applications.
EP8100 Series (EP8110 / EP8120)
The combination of the (Al,Cr,Si)N coating (newly-developed), which has a high oxidation temperature and high lubricity,together with the (Al,Ti,Si)N coating, which has better wear resistance and high adhesion, allows high strength hardened steel to be machined.
iMX-B3FV
iMX-B2S / iMX-B4S
Corner radius, Taper head, Multi-flute, with coolant hole
Taper radius end mills, (corner radius) were conventionally used for turbine blade finishing. iMX taper radius end mills offer equivalent performance to solid end mills but achieve lower process costs.
Features
Drastically reduces cutting time
Reduces the cusp height when using the same pick feed (ae).
Chamfer Head
Features
Ideal geometry for different chamfering applications.
Steel Holder
Features
Series expansion of steel holders.
Series of cost effective and capable steel holders suitable for lower depths of cut and short overhang applications.
Cutting Performance
Tool life at least 3 times longer than conventional holders.
Duplex corner radius head with coolant hole, 4 flute, For high feed
iMX-C4FD-C
Features
High efficiency machining geometry
Thin chips and a long cutting edge combine to
provide both high performance and long tool life.
Vibration control geometry
Reduced cutting resistance in the radial direction
suppresses tool vibration and reduces deflection.
Cutting Performance
Tool Life Comparison when machining Cobalt Chromium Alloy (DC=10mm)
Tool Life (Co-Cr Alloy)
APPLICATION EXAMPLES
The examples shown are actual applications and can differ from the recommended cutting conditions.