Grooving System
Grooving Revolution
Innovative clamping system ensures reliable grooving.
Widened application area for the GY series!
The added insert (1-edge) enables machining for external grooving and face grooving with no interference.
The unmachined edge of the 2-edges insert can eliminate interference with workpieces.
Inserts available for groove widths from 1.5mm up to 8mm.
A wide selection of holders and inserts available for diverse grooving applications.
External・Face holders
Corresponding blades to a variety of modular holders with different shank sizes.
Modular type holders can be used over a wide range of applications by using different modular blades.
Applicable for various diameters of face
grooves by the wide array of modular
blades with different grooving diameters.
Internal holders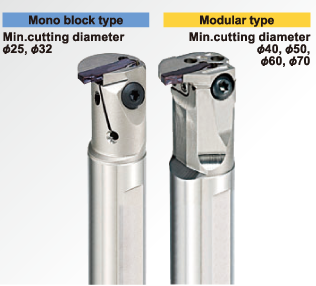 A wide range of holders available
from minimum diameter of φ25mm.
Short shank types are standard stocked.
Original insert design leading the way to new grooving applications !
Highly reliable insert clamping
Face grooving test results
GY series can achieve stable machining at the cutting conditions which created vibration with a conventional modular type tool.
Rigidity comparison
The GY series provides rigidity comparable to a mono block type grooving tool.
New TRI-LOCK System for increased stability and performance!
TRI-LOCK System
The TRI-LOCK system ensures the blade is securely fixed in 3 directions (side, front and top), giving high rigidity for stable grooving performance.
INSERT
A WIDE SELECTION OF INSERTS
Breaker system
Selection of groove widths
Different corner radii available
MF Breaker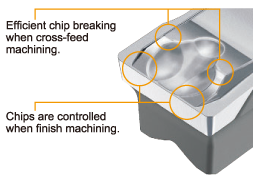 INSERT GRADE
Application Examples for External Grooving
Application Examples for Face Grooving
Application Examples for Internal Grooving