Barrel End Mill for Finish Cutting of Titanium Alloys
New Successive Two Radius Design Achieve High Efficiency Machining
Nose radius suitable for fillet milling, also tangential form radius fit composite blade surface machining.
Ideal Shape
Compared with ball nose end mill, an tangential form radius is larger and cusp height is controllable.
This design makes highly efficient machining with larger pick feed.
Nose and tangential form part has two different radius.
Shorter cutting distance contribute to longer tool life.
Comparison of Machining Time by CAM Simulation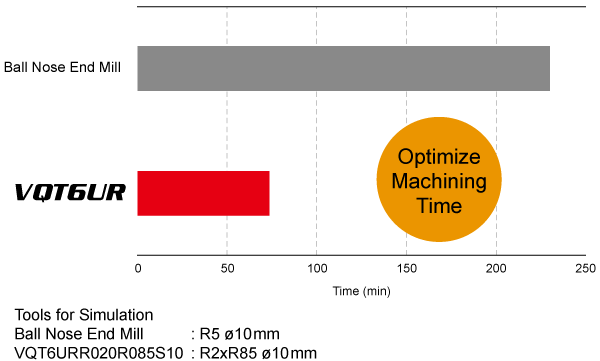 Cutting Performance
Slot Milling of Titanium Alloy
Provided good surface finishes and there was no chipping on the cutting edge.
Deep Wall Machining of Titanium Alloy
High efficiency machining is possible while maintaining quality of machined surface.
Machining Example
Blade Surface Machining
Fillet Milling