Round Insert Cutter for Difficult-to-cut Materials
High Accuracy Run-out Provides Efficient Machining
CVD Coated Grade for Machining of Stainless Steels
MC7020
MC7020 has excellent wear, chipping and thermal crack resistance.
These features prevent the problems usually associated with machining stainless steel over prolonged periods.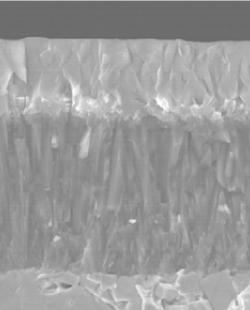 Improved Wear Resistance
The micro-grain wear resistant Al2O3 and fibrous TiCN layers deliver excellent wear resistance when milling a wide range of cast irons.
Improved Fracture Resistance
Use of a specially developed cemented carbide that provides superior resistance to fracture and thermal cracking prevents the cutting edge from sudden fracturing.
Reduced Abnormal Damage
An extremely smooth black super-smooth coating prevents abnormal damage such as weld chipping.
With Accumulated Al-Ti-Cr-N Based PVD Coating
MP7100, MP9100
A fusion of the separate coating technologies; PVD and multi-layering realises extra toughness.
PVD Coated Grade for Difficult-to-cut Materials
MP9140
MP9140 Has Excellent Welding Resistance Due to the Smoothened Surface
Breaker System
Breaker series for various applications
Advice for High Efficiency Machining
Fine and super fine pitch cutters improve efficiency by 10-20% when compared to a regular pitch type.
Cutting Performance
JIS SUS420J1 Wear Resistance Comparison
Longer life of by at least 40% compared with conventional.
JIS SUS304 Wear Resistance Comparison
Longer life by 30% compared to conventional.
Ti-6Al-4V Wear Resistance Comparison
Longer life by 25% compared to conventional.
Application Examples