Solid Carbide Flat Bottom Drills
High Efficiency Drilling in Various Types of Machining
High efficiency counter boring in various types of machining is with excellent chipping resistance.
Low cutting force provides less burr.
Excellent performance in correction of eccentric hole and cast hole due to high position accuracy.
Features DC>3mm
Longer Tool Life with Stable Cutting
Coated Grade DP1020
Newly-developed coating for drills provides excellent wear resistance with low friction property, resulting in excellent versatility and extended tool life.
Features Small Dia. DC<3mm
Sharp Cutting Edges with Long Tool Life
Coated Grade DP102A
DP102A is a PVD coated cemented carbide grade specialized for drills, with greatly improved wear resistance when drilling small-diameter holes at low speeds and low feed conditions. This provides high adhesion and stability even with sharp cutting edges.
Cutting Performance
Comparison of Thin Plate Machining in AISI 4140
Flat tip angle prevents burr formation in various types of applications.
Comparison of Exit Burrs Generated in AISI 304
The unique cutting edge shape suppresses the formation of exit burrs.
Comparison of Fracture Resistance in AISI 1050
Achieved 1.3 times longer tool life compared to conventional products because of increased stability.
Comparison of Fracture Resistance in AISI 304
Achieved double tool life compared to conventional products because of the outstanding fracture resistance
Comparison of Machining for Angled Surface with 45° Angle in AISI 1045
Controlled abnormal fracturing because of the excellent welding resistance properties.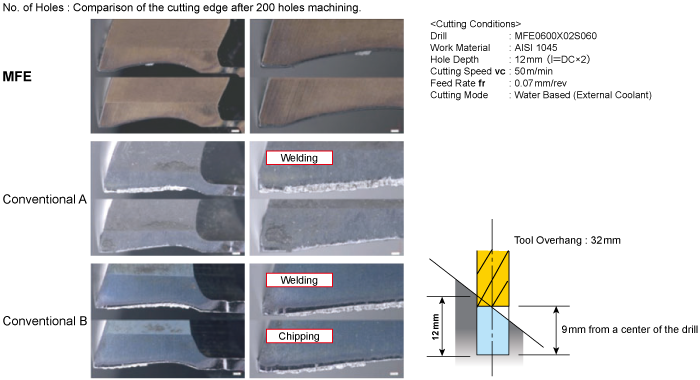 Application Example
The above application examples are customer's applications, so it can be different from the recommended conditions.